(and any other interested parties)
If you can't read Cyrillic (ie Москва looks like "Mockba" and not "Moskva") you should learn! It is SHOCKINGLY EASY. I learned to read with essentially perfect accuracy in about a week, and despite being a very lazy Russian student (and going a whole year without taking any Russian courses at one point) have never even come close to forgetting.
This is actually an instance where being an Anglophone learning Russian is easier than the reverse, because Russian is an overwhelmingly phonetic language, quite unlike our native tongue (in terms of difficulty of pronunciation, you'll never come across anything as confusing as this in Russian, nor is there a Russian equivalent of the infamous "ghoti").
Seeing letters instead of shapes not only allows you to figure out a surprising amount (for example, компьютер is pronounced "kompyuter", and means computer), but makes you feel really cool— mostly because it does, in fact, make you really cool.
It can also be surprisingly handy! The summer after my freshman year of college I sublet a room from a Russian and found a pill bottle in one of the drawers with a Russian label. I was living with some drug nerds at the time, so naturally we were curious what it was— I didn't know what валериан meant, but I could pronounce it ("valerian"). Turns out it's a cognate: valerian is an herb sometimes used to treat anxiety and depression, and despite my Russian accent, one of my friends recognized it, so we knew what it was without having to look it up online.
If you're interested and would like help, I'd be more than happy to scan some pages from my (quite good) intro Russian textbook. I'm sure there are great websites and videos online, too. I really love talking about and practicing the Russian language, so never hesitate to ask me about it (even if I have no idea who you are!).
[Click through for Google Translate tips, a quick walk-through using everyone's favorite coloring book, and a few notes on cursive Russian (the orthographic style, not the sub-dialect some Russians swear in).]
GAMING GOOGLE TRANSLATE
Google Translate will instantaneously transliterate (change Latin letters to Cyrillic) for you, so if there's Russian text in an image and you want to know what it means, you can type it out phonetically in the Latin alphabet, and gtranslate will do the rest!
Let's say you want to translate this page from the delightful Vova & Dima coloring book: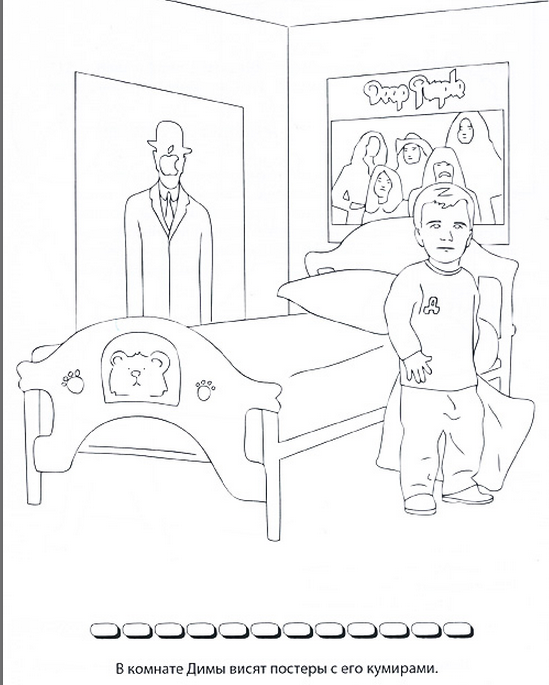 If you know how to read Cyrillic, you just set gtranslate to Russian to English, check the "allow phonetic typing" box, and type "V komnate Dimi visyat posteri s ego kumirami". There are many ways to transliterate Russian, but gtranslate isn't finicky and pretty consistently impresses me with its accuracy— typing in the above, which is an intuitive phonetic English romanization and doesn't follow any particular system, yields "В комнате Димы висят постеры с его кумирами," which is exactly what we want!
Now, like any online translator, gtranslate isn't perfect— in this case, it gives us "The room Dima hang posters of his idols," which is close, but obviously not correct. To illustrate the translator's logic, here's a literal translation: "In the room of Dima hang posters with his idols," which we could translate into idiomatic English as "There are posters of Dima's idols (hanging) in his room." Still, just a few hours of practicing the Cyrillic alphabet can take you from "no idea" to "something about Dima and posters in his room"— not bad!
Pro-tip: Gtranslate offers alternative translations for each word or phrase— in this example, if you click the word "Dima" in the English box, a drop down menu listing "of Dima" and "Dima's" pops up, allowing you to choose the translation that you think makes more sense in context. Nifty, no?
NB: on Cyrillic handwriting
I first tried to teach myself Cyrillic when I was 12 (and very soon forgot it, because instead of actually trying to read anything I just copied out the letters over and over— don't do that!) and wasted many hours teaching myself to write Cyrillic letters in print. Turns out that when writing by hand, Russians almost exclusively write in script/cursive, so if you want to learn to write in Cyrillic, don't focus on copying the printed letters.
Cursive Cyrillic is absolutely gorgeous, but sufficiently different that you probably won't be able to read even a neatly written note if all you've seen is the block alphabet. Don't let this discourage you, of course— just a heads up.
I'd be more than happy to explain a bit more about Cyrillic handwriting if there's any interest— there are some quirks to it that need to be explained carefully, so it's not quite as straightforward as learning to read the print alphabet, but is also totally worth it.